21 Sep 2023
Patient-led campaign wins HSJ Award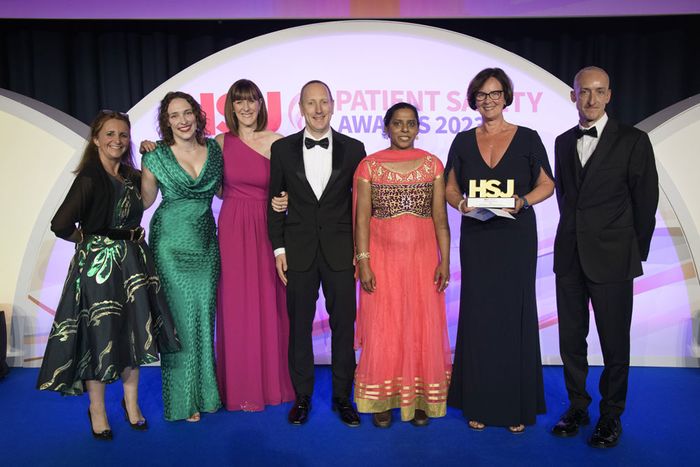 The NHS Professionals - Living and working with Parkinson's group, in collaboration with the Parkinson's Excellence Network, have scooped the Patient Involvement in Safety Award at the HSJ Patient Safety Awards 2023.
The award celebrates the patient-led campaign to ensure that patients with Parkinson's receive their time critical Parkinson's medication on time, every time in hospital. The judges recognised the project's significance in enhancing patient involvement, with positive feedback on engagement efforts.
The collaboration fought off stiff competition to win the award. A record-breaking 516 entries were received for the awards overall, with 206 organisations, projects and individuals making it to the final shortlist, following 2 rounds of rigorous judging. All of this culminated in a glittering ceremony on 18 September in Manchester.
Clare Addison, Lead Nurse for Adult Safeguarding at the Surrey and Sussex NHS Trust, said:
"This national endorsement by the HSJ highlights the importance of this patient safety issue and the role which all hospital staff can play in ensuring that people with Parkinson's get their time critical Parkinson's medications on time, every time in hospital."
The group's success at the HSJ Awards comes just a few days after Parkinson's UK released the Get It On Time policy report – Every minute counts: time critical Parkinson's medication on time, every time. Read the Get It On Time report here: www.parkinsons.org.uk/get-involved/get-it-time.
You can chat with members of this award-winning team at the Parkinson's UK stand C01 at Acute and General Medicine, and go to the Parkinson's Time Critical Medications sessions on 15 November, 9am in Theatre B, and 1.30pm in Theatre A.